---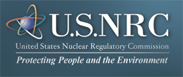 U.S. Nuclear Regulatory Commission
U.S. Nuclear Regulatory Commission is the governmental authority created by the U.S. congress for regulating and controlling the nuclear energy facilities and research activities. The Commission's primary functions are:

Radiation protection;
Safety of nuclear reactors;
Regulation of nuclear and radioactive materials;
Nuclear safety;
Licensing of nuclear facilities;
Radioactive waste management;
Development of legislation.
U.S. Nuclear Regulatory Commission pays great attention to the safety principles of nuclear materials abroad. NRC provides advice and assistance to international organizations and foreign countries to develop effective regulatory organizations and implement international requirements and standards.
The Radiation Source Regulatory Partnership (RSRP) is a U.S. NRC funded program that assists over 30 countries in developing the national register of ionizing radiation sources (
www.rsrp-online.org
), initiation of authorization and inspection activities and implementation of information systems.
Also assisting regulatory authorities with infrastructural projects, developing legislation in the field of nuclear safety and security and providing expert missions to share expertise.
U.S. Nuclear Regulatory Commission
www.nrc.gov